THE DATES HAVE BEEN CHANGED TO 18th to 20th August 2023. THE VENUE REMAINS THE SAME.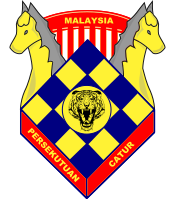 The Malaysian Chess Federation will be organizing the National Junior Chess Championship 2023 for U20 (Open and Girls event) from the 18th to the 20th of August 2023 to be held in Flemington Hotel, Taiping, Perak. As everyone may have guessed, this was also the same venue where MCF held its Malaysian Chess Championship back in early May 2023.
The Junior event will be held over seven (7) rounds Swiss deploying a time control of 45 minutes + 30 seconds increment. This will be National Rated event where players must have an MCF ID to participate. The event is meant only for Malaysians under the age of 20 – having born on or after 1st January 2003.
The entry fee to participate in the event is RM50 – regardless if you have a rating or otherwise, and the closing date to register is the 4th of August 2023. Players who are interested to participate, please register at https://forms.gle/ds9gCohrTeEn6GpT6 and include the RM50 proof of payment to complete the registration.
Pending formal announcement made by the Selection Committee, the Champion of the Open and Girls category will have the first option to represent Malaysia at the upcoming Asian Junior Chess Championship to be held in New Delhi, India and the Eastern Junior Chess Championship to be held in Kota Kinabalu, Sabah.
To learn more about the event, please download the following documents:
For more information, please contact the Tournament Director – Iwan Schani Ibnu at ischani10@gmail.com or at mobile +6017.564.5183.
MCF Secretariat