The Malaysian Chess Federation will be organizing the National Arbiter Seminar 3.0 to be held from 17th to 19th September 2021. Limited to only 30 participants, the fees to register is set at RM 160 inclusive of RM 20 examination fees that all participants need to sit for at the end of the 3 days course. In view that chess is one of the sporting activities competitively played in schools, a 25% discount is given to teachers who are interested to participate provided they are able to furnish a support letter from their school/headmaster confirming their status as teachers.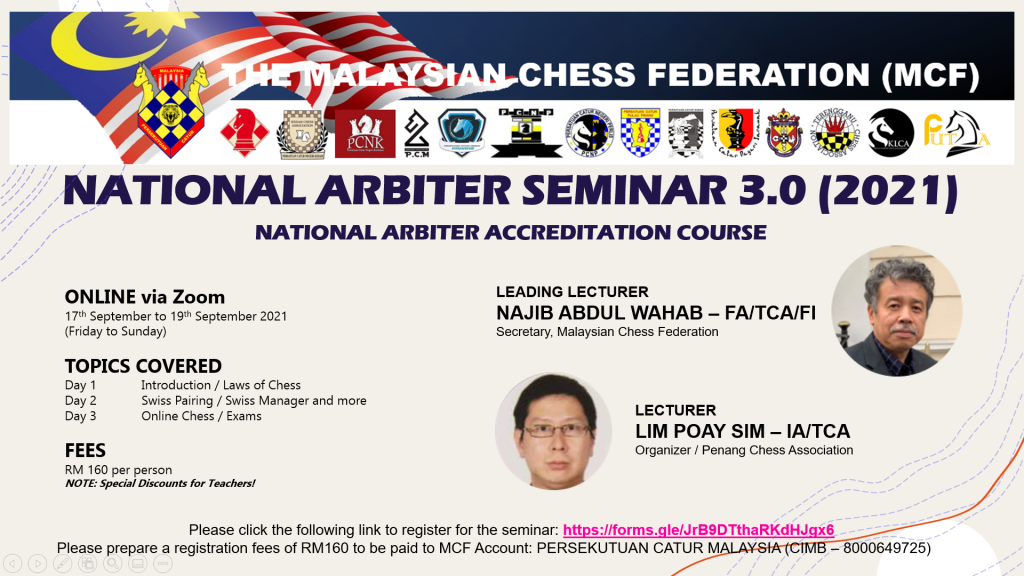 The Seminar will cover the usual topics regarding FIDE Laws of Chess and Swiss Pairing, and also a special topic on Online Chess which has become very popular since the pandemic started early last year. The additional topic will cover Online Chess Rules and Regulations including discussion sessions on some of the best practices used by many organizers when organizing online tournaments especially in our effort to minimize cheating issues.
The Leading Lecturer for the Seminar will be FA/FI Najib Abdul Wahab who is also the Honorary Secretary of the Malaysian Chess Federation, assisted by IA/TCA Lim Poay Sim, an active member of the Penang Chess Association.
For more information on the event, please download the following documents for perusals and references,
To register for the Seminar, please fill up the Registration form at: https://forms.gle/9LqCHdYxhou9YQXs8 and provide a proof of payment to confirm your participation
Closing date to register is 14th September 2021.
MCF Secretariat