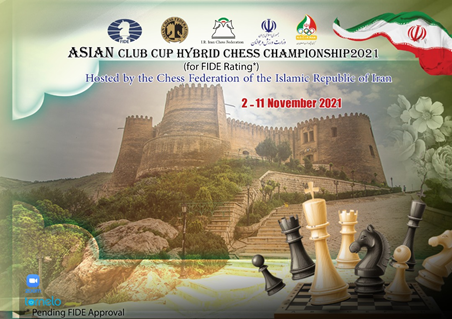 The Asian Chess Federation and the Chess Federation of the Islamic Republic of Iran is inviting Malaysia to participate in the ASIAN Club Cup Hybrid Chess Championship 2021. This is a FIDE Rated event with Classical Time Control of 90 minutes + 30 seconds to be played over 9 rounds starting from 2nd November to 12th November 2021.
The event requires each team to field 6 players – 4 Men (with 2 reserves) and 2 Women (with 1 reserve). For this event, MCF strongly suggest that players to find their own team in order to play in the event as it would be easier to manage the team as members of them would be more comfortable with one another. The registration and administrative cost for one (1) Teams to play in the tournament is RM3,000 which includes the cost of entry fees (USD 150 per team) and 2 Arbiters needed to oversee the Hybrid center where the team is playing from. Team are also expected to find their own venue such as Academies or Chess Centers in order to participate in the event, and to take note that only 1 round is played per day over the course of 9 days.
Those who are interested to form a team and participate in the event are requested to download the event Rules and Regulations as per below.
Closing date for teams to register their intention to play with MCF is 18th October 2021 (complete with all the payments necessary) as MCF would need to find and assign Arbiters to oversee the Hybrid Center. Teams maybe able to cut down their cost to only RM 1,350 (RM 150 per player x 9 players) by finding their own Arbiters at their own cost to negotiate to oversee the Hybrid Centers. However, the approval of the Arbiter is subject to MCF and ACF approvals.
Please write to mcfsecretariat@malaysiachess.org should you have inquiries or requiring clarification about the event.
MCF Secretariat