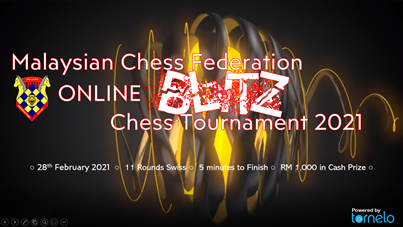 The closing date for the MCF Online Blitz Chess Tournament has been extended to 27th February 2021 – Saturday, with registration slowly picking up pace. The event will be played on Sunday, 28th February starting at 2:00pm with the final round expected to be concluded by 6:30pm. The 11 rounds event will be played using a time control of 5 minutes played to the finish.
Those who are interested to play, please read the Tournament Rules and Regulations by CLICKING HERE.
Registration can be made at https://forms.gle/X39kwhDwZJ4Bhgiw6
Come and join the fun and stand a chance to win cash prizes worth RM 1,000.
MCF Secretariat