After two (2) days of battling for the right to brag as Malaysia's Individual Online Rapid Champion 2020, one clear winner stood out from the rest of the field of 76 players. While the event had closed out with 77 players, a few players withdrew from the event and with a few last minute entries were added, the final number of participants settled at 76 players – which included 16 women players and 20 Unrated players.
After 9 rounds of play, CM Tan Jun Ying was declared the sole winner with an almost perfect score of 8.5 points from 9 games. His only draw came in the 6th round when he drew his game with NM Evan Timothy Capel. Some of Jun Ying notable wins were against FM Wong Yinn Long in Round 5 and FM Lye Lik Zang in Round 8.
The sole runner up and a clear point behind is youngster Poh Yu Tian whom managed to rake 7.5 points out of 9 games. Yu Tian lost his 4th game against eventual winner Jun Ying and drew his last round with Capel.
Sharing the next three spots – each with 7 points but separated by tie breaks, were Evan Timothy Capel, FM Wong Yinn Long and FM Lye Lik Zang. Three more players had 6.5 points each and again separated by tiebreaks were ranked as follows – WCM Nithyalakshmi, Tin Shan Wen and Cheah Kah Hoe. However, Tin Shan Wen was awarded the Best U18 player due to the higher prize money offered.
Rounding up the top 16 places – starting from 8th place to 11th places with 6 points each were Kavin Mohan, Lai Hong Jun, Ferris Lim and NM Lee Soi Hock. The balance 5 places with 5.5 points each – separated by tie breaks from the rest of the pack, were Lee Care Greene, IM Jimmy Liew, Subramanian Sivanesan, Loo Pin Xie and Yeoh Yuan Hui.
The full list of all prize winners are as per below: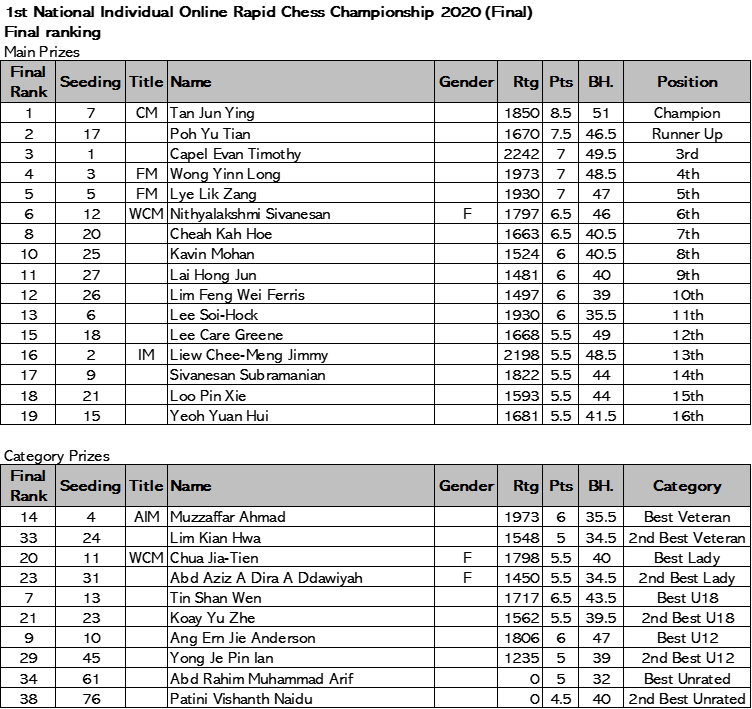 MCF congratulate all the prize winners for their effort, and thank all the participants for their cooperation in making the event a successful outing for all involved. All winner will be notified soon or, they can also contact MCF Secretary by writing an email to mcfsecretariat@malaysiachess.org and furnish their personal details including their bank account number within the next few days.
MCF would like to thank the organizing committee and team of Arbiters for the event – IA Lim Poay Sim and NA Muhammad Saiful Asyraf (both from Penang), for handling a smooth running event which had started and concluded in a timely manner.
MCF looks forward to organize its next online event via Hybrid concept, sometime at the end of November or early December. Be on the look out!
The full standing of all the players, can be viewed at chess-results.com by CLICKING HERE.
MCF Secretariat