The last edition of the Russian House – formerly known as the Russian Centre for Science and Culture (RCSC), Chess Tournament was conducted in February 2020, a few days before the lockdown was enforced. The pre-pandemic event attracted 87 players with a chess simul given by GM Alexander Forminyh as a side event to the tournament.
Fast forward to 2022 – at the tail end of the pandemic SOP enforcement but with rising omicron cases, the event was toned down to only 50 players and the event focused only on the chess tournament without any side event staged. Whilst many players had called in showing interest to participate, the organizers decided to take the precautionary steps by limiting the number of participants in the event.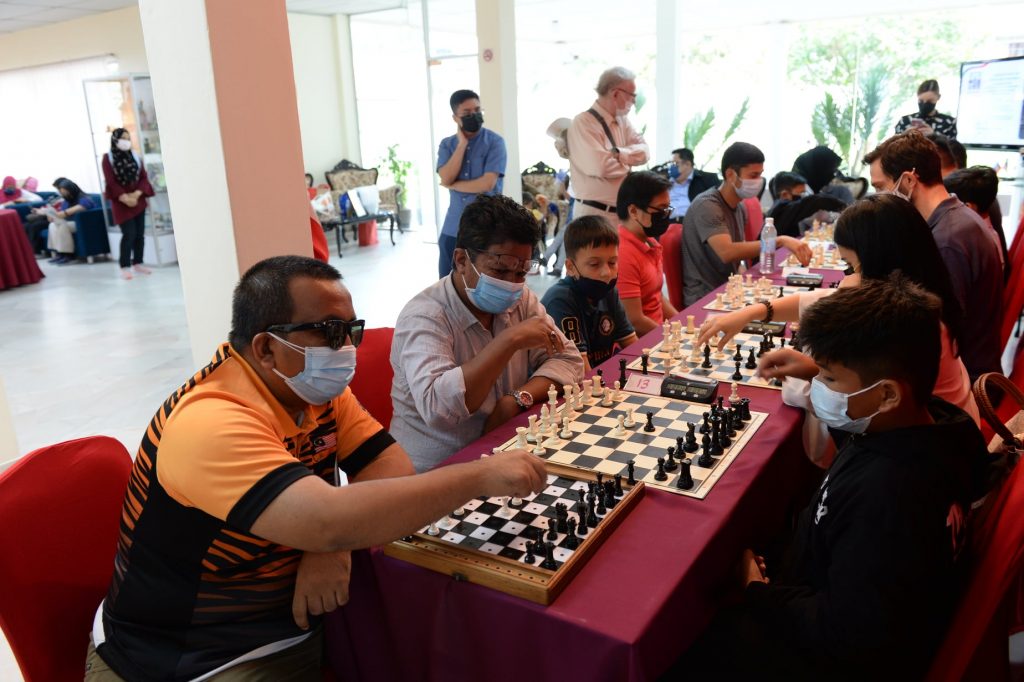 The Opening was officiated by His Excellency Naiyl M Latypov, Ambassador of the Russian Federation to Malaysia, and Svetlana Kovaleva, the Director of the Russian House. Also present were members of the Malaysian Chess Federation (MCF) Committee – Honorary Secretary Najib Wahab, Treasurer Emran Mohd Tamil, and Information Officer Nik Ahmad Farouqi Nik Abdul Aziz who also doubled up as the Chief Arbiter for the event.
Among the list of players attending were former MCF Treasurer Haslindah Ruslan, Paralympian Mohd Johar Johari from Melaka, and dignitaries, officials, and members of Tajikistan, Kazakhstan, Turkmenistan, and Kyrgyzstan Embassies. To add colors to the event, a few other players from India, Afghanistan, Bangladesh, Iran, and France – who were currently residing in Malaysia, also took part in the friendly occasion.
At the end of the 6 round event, Iranian Amirreza Vossough emerged as champion with a perfect 6 points followed by Hakeem Yunusmetov, India Aryan Ujjwal Mehta, Mohd Yussaini Mohd Yusri, and Kyrgyzstan Pavel Luzanov. Shen Ree Herng took the Best U12 title with Ava Arabella Sheikh Abdullah the Best Lady, and Turkmenistan Aliniyaz Mashalov the Best Diplomat.
The Closing and Prize Giving Ceremony was officiated by the Director of Russian House herself, Svetlana Kovaleva.
The Malaysian Chess Federations thanked the Russian House and Svetlana Kovaleva, for their inspiration, support, and collaboration to continue with the event, HE the Ambassador of Russian Federation to Malaysia – Naiyl M Latypov, for gracing the event, all officials, players, parents, supporters, fan and attendees to the event, for your kind support in ensuring the event success. There is already talk for MCF and the Russian House to conduct another event soon, and we hope that will attract more players and a more serious tournament format.
Thank you, everyone!
MCF Secretariat