Albeit his hectic schedule and the possibility of missing the Congress and the Olympiad last week, MCF President – Akhramsyah Muammar Ubaidah Sanusi, finally managed to squeeze some valuable time to be at the Olympiad, getting to know the who's who of the Chess World. Arriving in Chennai yesterday, Akhram did not waste any time getting to know some of the more important figures at the Olympiad especially colleagues and peers from the ASIAN Chess Federation and fellow regional Presidents.
The first order of business was the ASIAN Chess Federation Zone 3.3 Council Meeting held earlier this morning and attended by the delegates of the 13 countries that made up the zone. The Council Meeting also saw GM Utut Adianto of Indonesia – running unopposed, and named as President of FIDE Zone 3.3.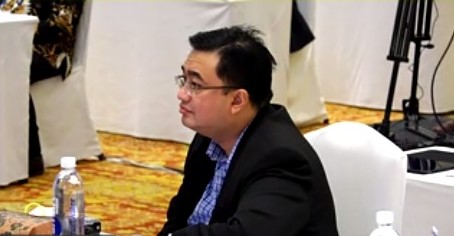 The next couple of hours will be very important for the future of chess as delegates from over 170 countries will vote for the next FIDE President currently held by Arkady Dvorkovich of Russia. Will the incumbent retains his seat as FIDE President? Or will he be outvoted by Andrii Baryshpolets of Ukraine, or the other challenger – Frenchman and current FIDE VP Bachar Kouatly? And just as the Olympiad started a few days ago, another Presidential candidate, Belgium famous movie director –  Inalbek Cheripov, has confirmed his withdrawal from the race citing health issues.
While Arkady seems to be the front runner and looks the favorite to maintain his throne having picked GM Anand Viswanathan of India as his running mate – smart move by Arkady, he will definitely feel the pressure of being one of the few Russians still holding office in an international organization in view of the current Russian-Ukraine conflict that is very critical on the western agenda. Challenger Ukrainian Andrii will definitely bank on this global issue to gain votes while on the other hand, Bachar will take a different angle of approach – having a clear understanding of the weaknesses in the current administration under Arkady, and would probably focus on improvements that he can perform if he were to take over.
FIDE election is set to take place this Sunday, 7th August 2022, and with candidates still campaigning for the top spots or a place in the upcoming FIDE Committee, President Akhramsyah is still mums about who will get his support for the seat(s). But all in all, MCF wishes that the new FIDE President – be it Arkady or a new face at the top, that chess will continue to flourish and improve in stature – and funding, in the many years to come.
MCF Secretariat