Busy Weekends Ahead – 1 Seminar, 5 Events, more than RM23,000 in cash prizes up for grabs!
MCF Secretariat
16/02/2021
0 COMMENTS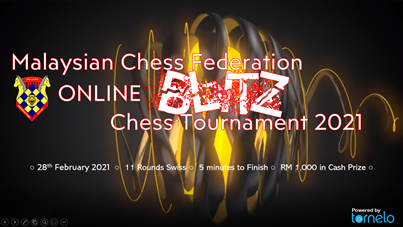 It will be busy weekends ahead for the Malaysian Chess Federation starting with the last weekend in February and continuing until the middle of April – a day before Muslim starts its Ramadhan fasting ritual. Pending the MCO situation – of which KBS has agreed for certain sports sector to resume competitively by March, it is hoped that Chess activities will also be able to resume albeit with minimum participation while adhering to the required SOPs.
For the next seven (7) weekends, a variety of events from National Arbiter Seminar to Tournaments via Online, Hybrid and Over The Board, have been planned for the local community. The events will also deploy variable time control ranging from Blitz to Rapid to Classical event – including possibilities of FIDE Rated events!
Kicking off the activities will be the MCF Online Blitz Tournament Q1 2021 to be held on the last day of February. Contested over 11 rounds of play with a time control of 5 minutes to finish, MCF has set aside RM1,000 in cash prize for the eventual winners of the event.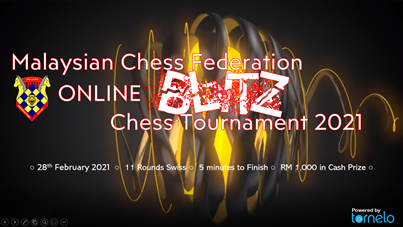 vent information with regards to Entry Fees and Prize money offered can be downloaded HERE – Online Blitz 2021 Info Pack . All entry fees to be paid to Persekutuan Catur Malaysia (CIMB – 8000649725)
Those who are interested to play, can register via Google Form at https://forms.gle/LY2NxkcsVNvGhJR56 and entries are limited only to the first 100 players. As per the usual practice in all MCF events, the tournament will be played over Tornelo playing platform, and the use of webcam with zoom meeting application are compulsory for all players. The MCF Blitz is a half day activity starting from 2:00pm and expected to conclude by 6:00pm on the same day.
The next event is the National Arbiter Seminar organized by the Persatuan Catur Negeri Kedah which is scheduled from 5th March to 7th March 2021. The 3 days seminar is already fully booked and those who are interested to join will have to wait after Hari Raya as a couple of State associations have already voiced their interest to organize a similar program.
The next event after that is the Selangor State XTiv series – Selangor XTiv Virtual Chess 2021 – Series 1, which will be held on 13th and 14th March 2021. It will be a Rapid discipline with a time control of 8 minutes + 2 seconds played over 8 rounds Swiss. There are 4 categories of play with each category being played at different times of the day. The 4 categories contested are Junior U12, Junior U18, Ladies and Open events with each categories limited to only 180 players.
Details for the event is currently being finalized by the Selangor State Exco for Youth & Sports, and will be announced within the next couple of days.
The next three events planned are the MCF – KUPTM National Hybrid Online Individual Open & Challenger Chess Championship 2021 – Classical/FIDE Rated – scheduled from 19th to 28th March 2021, MCF Federal Territory Classical Chess Championship 2021 – scheduled from 2nd to 4th April 2021, and Series 2 of the Selangor XTiv Virtual Chess 2021 – scheduled on 10th and 11th April 2021. Details for these 3 events will be published within the next few days once the it has been finalized.
All in all, the 5 events planned from 28th February 2021 to 11th April 2021 offers a total prize fund of more than RM 23,000 offering a variety of time control and playing mode – from Online, Hybrid and Over-The-Board experience.
MCF Secretariat