61 Teams in the FIDE Online Olympiad for People with Disabilities – Malaysia sends 2 Teams
MCF Secretariat
10/11/2020
0 COMMENTS
The final listing of the teams playing in the Online Olympiad has been finalized with 61 Team taking part. With GM Tazbir Marcin on Board 1, Poland is the first seeded team with an average FIDE Rating of 2259 followed by Germany (FIDE Rating Average 2219) and our regional neighbor Philippines in 3rd seed with an average rating of 2197.
Other notable regional teams taking part are Philippines 2 (FIDE Average 1867) in 23rd seed and Vietnam (FIDE Average 1411) in 46th seed. Malaysia 1 – Captained by Masrin Erowan, is seeded 50th with an average FIDE Rating of 1339, and Malaysia 2 – Captained by Muhammad Khairy Jansar, is seeded 52nd with an average FIDE Rating of 1224.
There are a series of Team Captain Meetings and Briefing Session between today and 15th November 2020 before the Opening Ceremony to be held online on 20th November with the 1st Round for Qualifying to start on the following day, Saturday 21st November 2020. Once the qualifying rounds are completed, the From then on, the top teams will proceed to Semi Final rounds to be played on 29th and 30th November 2020 with the Final rounds to start on 1st December 2020. Closing Ceremony has been scheduled for 3rd December 2020.
The final list of all the teams and the players competing in the Final can be found at www.chess-results.com at the following link http://chess-results.com/tnr539368.aspx?lan=1&art=8&flag=30
All the games and rounds will be played over the www.tornelo.com platform – which has become the platform of choice for many organizers including FIDE. Tornelo will also be the playing platform for the up and coming FIDE Online Cadets & Youth Chess Championship to be held later in the month.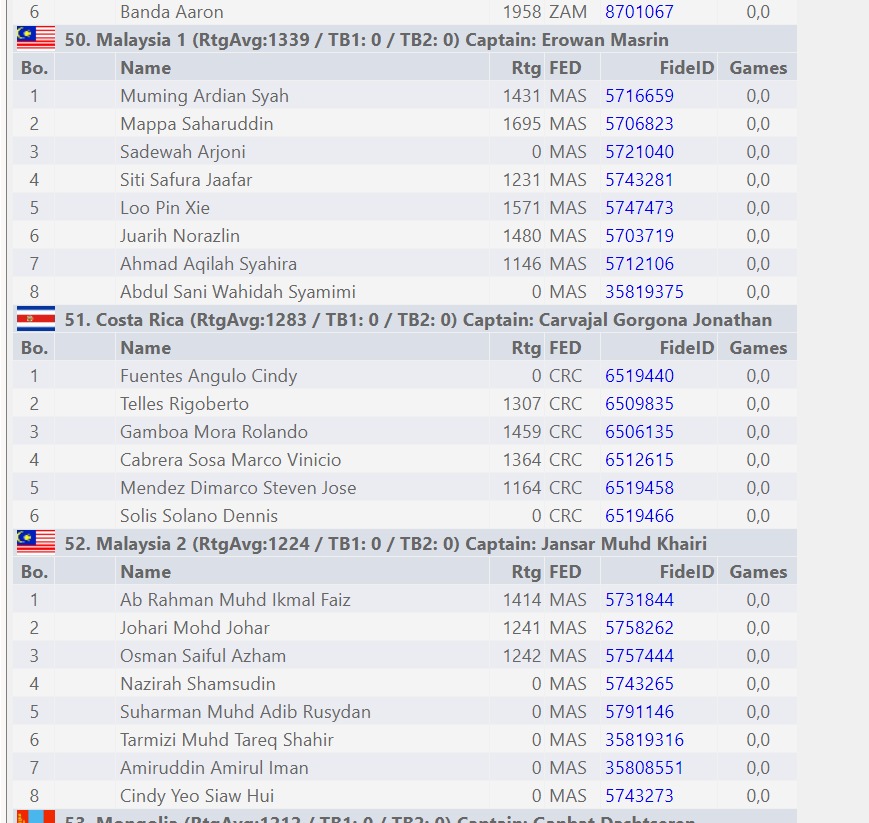 All the best to our Malaysian Teams – WE CAN DO IT!!
#togetherwecan #staysafe #stayathome
MCF Secretariat